What if I told you that most of the trending videos on tiktok are made with one simple app that anyone can use? Have you guessed which app I am talking about? Its Capcut Video Editing Application. Although Most of the people knows about Capcut there are many who finds it hard to use the app. That's why I am writing this blog to help you improve your editing skills and make the best TikTok videos or Instagram reels for our profile.
What is Velocity Edit?
Are you familiar about velocity edits? Recently, there's a viral trend where people are speeding up and slowing down their dancing videos and making it like cool effect. It's called a velocity edit. You must have seen
Tobey Maguire (spider man actor)
dancing video from the memes. Tobey Maguire as an evil spider man (Spiderman 3) edit is perfect example of Velocity Edit. Here is the video example to show you what I am talking about.
One dance – Velocity edit – YouTube
In Velocity edit, first you slow down the whole video and then you speed up some part of the video with the beat. It's actually not that hard to edit for the professional video editor but someone who just wants to make a Trending Tiktok video, it's exhausting. However, it's not quite as simple as Downloading the video editing software and randomly slowing and speeding the video parts. In order to make a perfect video with velocity edit, you need to have:
Beat Recognition software for the song.
Perfect Song on which you can do velocity edit.
Video Editing Software.
Professional video editing skill.
Lots and lots of time.
Since, You guys do not have most of these things, you can just use the Auto Velocity Effect of Capcut.
Auto Velocity Capcut
Just like most of the effects, Capcut has this one effect named Auto Velocity. You can just import the video and use this effect to make a perfect TikTok. But where do you start and what do you need to create it? Hold on while I cover everything you need to know to apply auto velocity filter on your videos.
Download The Capcut Video Editing Application: Your videos require editing app before it gets published on any platform. Capcut is the editing app which is created by the same company who founded TikTok. Since The Parent Company of both the applications is same, the capcut has all the effects and filters which are trending on TikTok. So, it is only wise to not look for another app and simply just use this app.
Why use Capcut for Auto Velocity?
There are many reasons why Capcut is heart of android and iPhone video editing.
Capcut allows you to use all of the features, effects and filters for free. They don't charge single penny or service charge for it.
The application itself is linked with Tiktok (Same founder) so it's easy to use template from TikTok.
If you use any other application, you have to do velocity edit manually instead, Capcut has Auto Velocity effect which you can easily apply to any video.
Only Capcut Video Editing App Has Auto Velocity effect.
Overall, it's the best android or smartphone video editing app to make trending Tiktok Videos and instagram reels.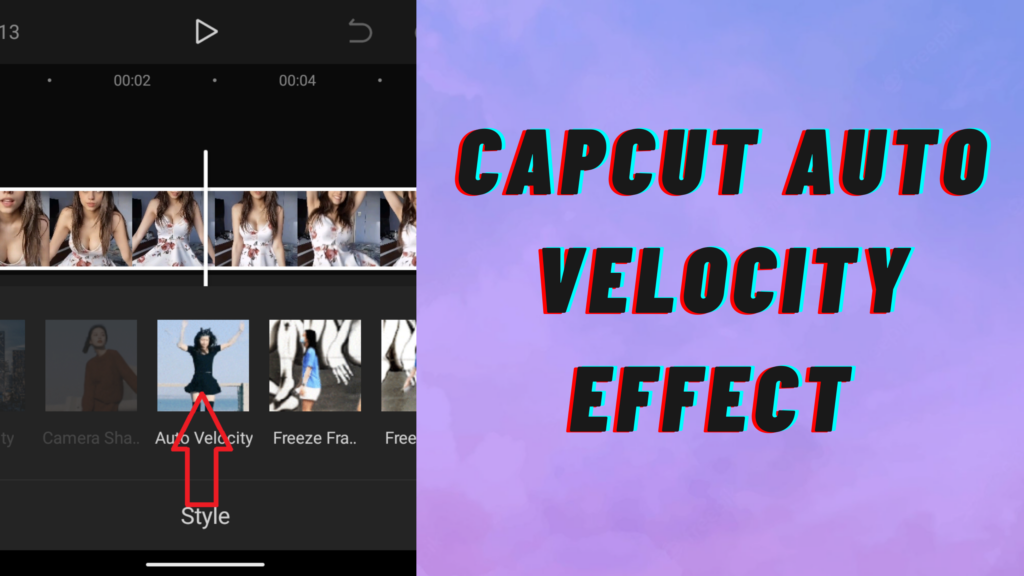 How to Use Auto Velocity Effect on Capcut ?
There are many important steps you have to follow in order to use Auto Velocity Capcut. I have written down everything in simplest way possible for the better understanding. You can do auto velocity edits without even splitting the video once. So, How to use capcut auto velocity you ask? Well, just follow these steps and you will be amazed.
First, choose the right video for auto velocity effect. Dancing Videos are perfect to do it.
Now Choose the right song for the editing. You can search for velocity edit songs in google. One dance is perfect song to do velocity edit.
I assume that you already have Capcut App On your smartphone. So, Open the app now.
Create New Project in app and add the desired video on which you want to apply Auto Velocity Template.
Now Click on the Add Audio Option and add the auto velocity audio.
Now Select the Video and Go to the Style Option. Refer the below given image if you won't be able to find it.
Once you click on the Style, find the auto velocity effect. Click on it and video processing for Auto Velocity will start.
Once its finished, play the video. Done!
Finally, Upload the Video in any social media platform you would like. You share the video directly to the TikTok Through the app.
Now Let's dive into some questions and queries that you guys asked before.
1. Capcut Auto Velocity Not Showing 
If you are not able to find Auto Velocity option in capcut then there could be only one reason for this. You may have older version of the app. As a remedy, Go to the play store if you are using Android or Go to the App store if you are using iphone and check for the update. You can search for the Capcut in the store and see if any update is available. If there's an update, you have to download and install it.
After Updating the app if Capcut Auto Velocity Still Not Showing, you can try uninstalling and then reinstalling the app. I am sure you will find the soltion.
2. Is Auto Velocity Still On Capcut ?
Lots of people tries auto velocity before but couldn't seem to have finding it again in the app. They are wondering if Auto Velocity Still on capcut. Well, the answer is yes. I have just tried it today and its availalbe.
3. How to Get Auto Velocity On Capcut ?
To Get Auto Velocity on capcut you have to update the application. It is available on Capcut Version 5.6.0 and higher.
4. Is Capcut Auto Velocity an Effect or a Template?
Template is the different feature of the Capcut. You can find Auto Velocity in capcut under the style option so obviously it's an effect. If you tried Velocity edit manually then you can export it as a template and use it.
5. Where to find Auto Velocity on Capcut ?
Lots of people are asking where to find the auto velocity in capcut. Well, i have explained it in the steps above. You can find the auto velocity under the style section. If you can not find the style option, then it's because you haven't selected the imported video. Just click on the video (From timeline) and you will be able to find the option there.
If you have an older version of the app then probably you won't find it under style option.
6. Auto Velocity Capcut Not Working 
Sometimes when you select the auto velocity, Video goes under processing but effect won't be applied. May be its because you don't have stable internet connection or may be the length of the video is too short.
You can use Nord VPN And select country as Austrelia or USA. It will work just fine.
Conclusion
Capcut is a video editing app Which brings the quickest updates for Trending TikTok Effects. It allows you to quickly edit videos without charging you single penny. You can also add text, transitions, and effects to your videos with just a few taps. Capcut is perfect for people who want to quickly edit videos on their phone or tablet. If you still find any difficulty in applying the velocity effect on capcut, you can always go to the official site of
capcut.com
. Thank you!