Motion Blur is an amazing effect and recently capcut added it in the app. You can use this effect with single click on any video or picture. It seems like everybody wants to use the effect, but nobody has clue how to do motion blur in capcut.
Well, I am mike and today i am going to teach you the simplest way to use this blur effect on Capcut. One more thing guys, if cap cut is banned in your country, then you can use this method (How to use capcut in banned countries?) also if you are wondering why Capcut is not showing in Appstore then you can follow our guide.
So, Motion blur wasn't available in Capcut until the recent update. Finally, people at capcut realized it and added motion blur under the video effect section. It is listed in basic video effects section which you can find easily.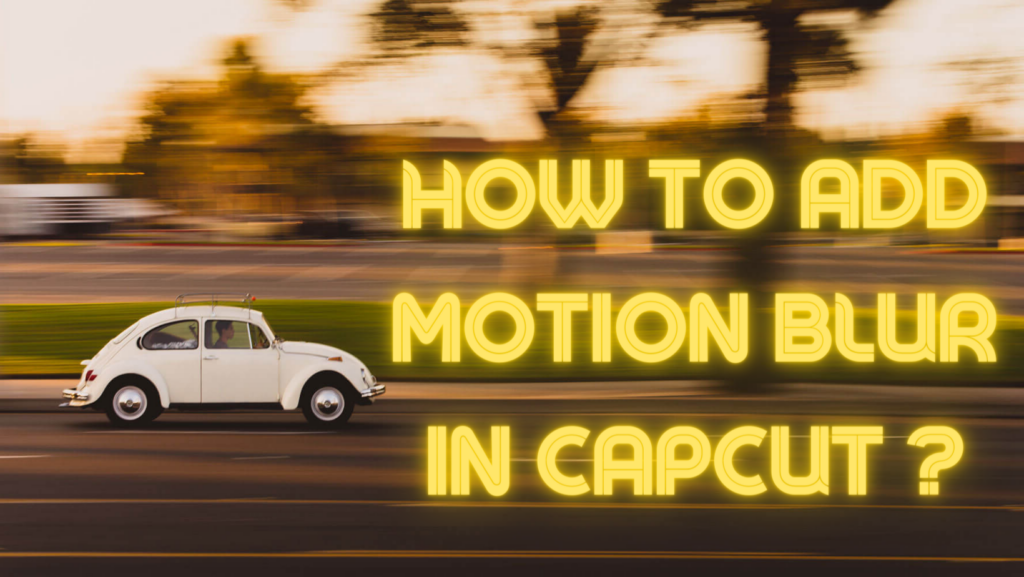 What is motion blur and when to use it?
First of all, let's break down the motion blur. In some videos, you might have the blurred train or blurred car while its moving. Whenever object is moving in the frame(video), it looks blurred. Sometimes when object is moving slowly but you want it to appear moving fast then you add motion blur effect to that moving object. By applying motion blur, it looks like object is moving faster than it actually is.
When you use keyframes to move any object or stickers or anything in the video, the object moves smoothly from one keyframe to another keyframe. Because of smooth moving, it doesn't look realistic. so sometimes that's why we use motion blur so that moving object would look more realistic and not at all animated.
So, in conclusion motion blur is the effect which makes moving things blurred so it makes sense. Now let's skip to the part where I'll show you how to use motion blur in Capcut.
Difference Between Motion Blur & Motion Blur Effect
It Applies where there's Motion in video
It Creates Realistic Blur Effect
Necessary when using keyframes
or object is moving
It Applies the moving effect
wherher there's motion or not
Recommended when
you want to show that object is
moving faster than it is
How to Add motion blur on Capcut?
There wasn't option to add motion blur in video before latest version. Since the capcut version 6.8, There's direct option available to add motion blur in capcut. Here i have written down the process how you can add it. 
First of all, you have to import the video in the timeline on which you want to add motion blur.
Now select the video and you will see the panel at the bottom of your screen. 
There, you can swipe till the second last option which is motion blur.
Click on it and it will add blur on motion in your video. 
It's that simple. 
If you find it difficult, just look at this picture.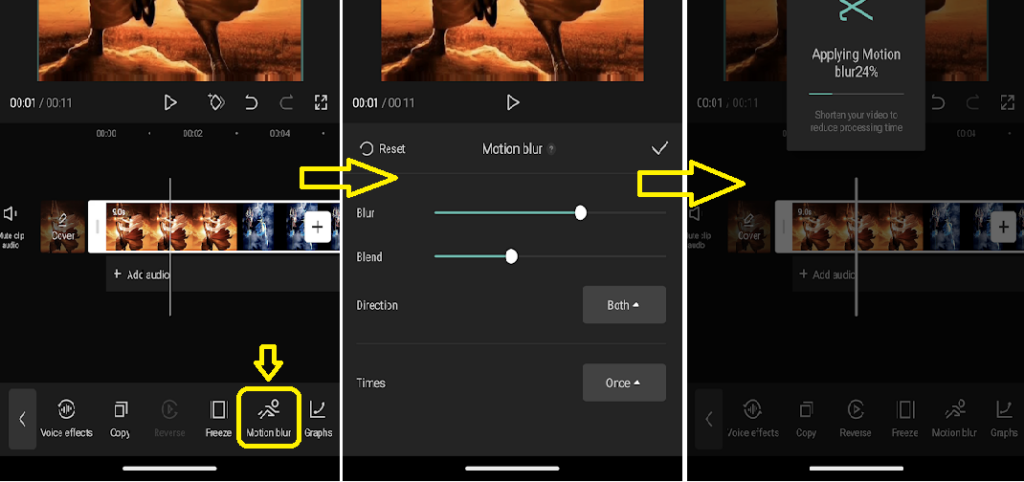 You can also manage the intensity of blur and blend of the motion bur. There's an option where you can set the direction of blur which you can set single or both. Just open your capcut app and follow the process. It's easy once you do it yourself. 
You cannot add motion blur in single picture because picture can never be in motion. If you want to add motion blur at the transition of the pictures, just import few pictures and export it as video. Now Import that video again and apply motion blur on whole video. There, you will get motion blur effect at the point where the pictures are changing.
How to add motion blur Effect in Capcut?
Adding the motion blur isn't as hard as it looks. If you even have single clue about video editing, then you can do motion blur in a bit.
First of all, open Capcut and add new project.
Here you can add any video or picture you want to add motion blur effect to.
Once you add the media in the project, you will see effects section in the menu.
Click on it and then click on Video Effects option.
There, go to the Basic Effects and find Motion Blur.
Apply it in the video.
Done!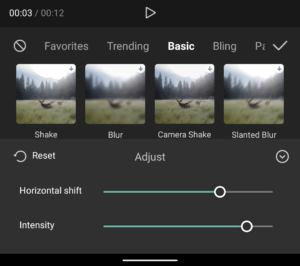 After you add the effect, you can increase or decrease the duration of the effect from the editing bar. Set the motion blur as per your need and then you can export the video.
You can also adjust the intensity and horizontal shift of the video. If you want to adjust that, follow the process once more. Once you add the effect you will see adjust option on that effect. Go to that option and you can easily adjust the video effects.
You can just follow the screenshots from here and do it yourself. I didn't even want to write this article because the process is very easy but after the lots of comments from the readers i had to publish this method.
Can Not Find Motion Blur effect in Capcut ? 
There are lots of people who are unable to find this effect. There can be number of reasons for that.
If you are not able to find the motion blur in capcut all you have to do is update your app. Just go to the playstore or appstore and check if update is available. Update the capcut and motion blur will be there in video effects.
If you do not have update available for capcut in Apple App Store or Android Play Store, then update isn't available in your country or region yet. You have to wait for week or two to get the Latest Capcut update for motion blur. If you find this article helpful, please let us know through the comment section.
Thank you!